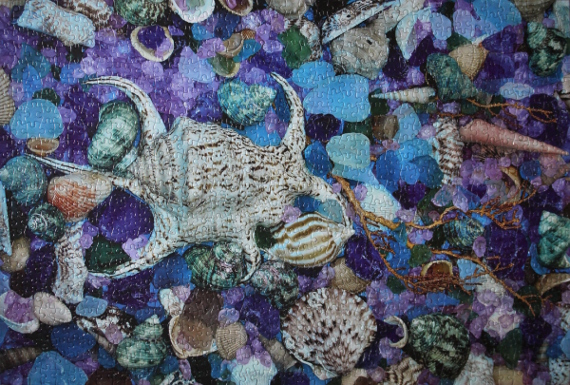 Size: 1000 pieces
Dimensions: 73 cm x 48.5 cm
Producer: TCG (formerly The Canadian Group), Sure-Lox, Collages series, 2014, #44719-6
Artist: Lisa Fondo
Puzzle: Lovely puzzle – not trivial, but quite enjoyable with a variety of textures and shades of blue and purple. This is one of my son's favourites – even before it was completed, he has asked that we put it up above his bed where it now resides.
Lots of ways to approach this puzzle: I have started with the large shell, assembling the smaller shells in parallel, and larger pieces of glass, followed by the dried seaweed on the right. After that, it was the matter of filling up every nook and cranny with little pieces of colour and pattern. Slow and indulgent, this puzzle requires a keen eye.
"Sure-Lox™ is a trusted quality brand. This collection of puzzles features extra thick puzzle pieces that are fully interlocking and uniquely shaped. Sure-Lox™ puzzles come in a durable, restorable box! All designed to make puzzling more fun! Image is everything!" [Puzzle box]

"Lose yourself in the entrancing imagery of the Collages artistic puzzle collection. Enjoy the challenge of piecing together these fun and playful collages of beautifully photographed subjects, like mouth-watering foods, creative crafts and more! Rich with vibrant colours and exceptional detail, these collages make for incredible works of art." [Puzzle box]