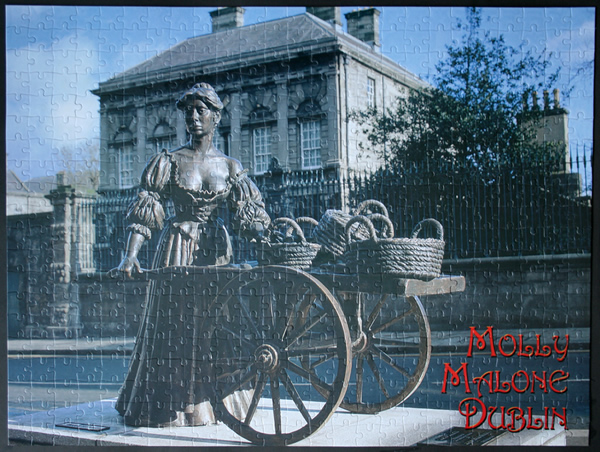 Size:  550 pieces
Dimensions: 60.5 cm x 46 cm

Notes: I brought this puzzle with me from Ireland in 2008. I do not have a record of the producer of this puzzle as I do not have the box anymore. A clarification is welcome – if you have any clue as to the details regarding this puzzle, I would much appreciate that information.

Molly Malone: "Molly Malone" (also known as "Cockles and Mussels" or "In Dublin's Fair City") is a popular song, set in Dublin, Ireland, which has become the unofficial anthem of Dublin City. The Molly Malone statue in Grafton Street was unveiled by then Lord Mayor of Dublin, Alderman Ben Briscoe during the 1988 Dublin Millennium celebrations, declaring 13 June as Molly Malone Day.
In Dublin's fair city,
Where the girls are so pretty,
I first set my eyes on sweet Molly Malone,
As she wheeled her wheel-barrow,
Through streets broad and narrow,
Crying, "Cockles and mussels, alive, alive, oh!"
"Alive, alive, oh,
Alive, alive, oh",
Crying "Cockles and mussels, alive, alive, oh".
She was a fishmonger,
But sure 'twas no wonder,
For so were her father and mother before,
And they each wheeled their barrow,
Through streets broad and narrow,
Crying, "Cockles and mussels, alive, alive, oh!"
(chorus)
She died of a fever,
And no one could save her,
And that was the end of sweet Molly Malone.
Now her ghost wheels her barrow,
Through streets broad and narrow,
Crying, "Cockles and mussels, alive, alive, oh!"
(chorus)
[Wiki]