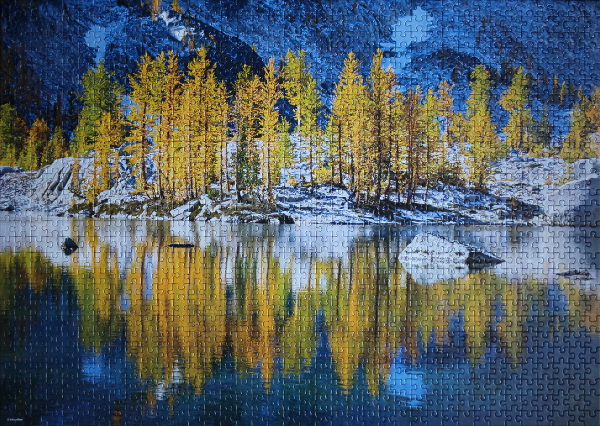 Size: 1000 pieces
Dimensions: 67.95 cm x 48.1 cm
Producer: Mega Puzzles, Vibrant series, 2013, No. 51420AAN, A 29073 LP
Artist: Adrian Klein
Original:  Golden Light
Puzzle: Not a trivial puzzle, but a calming one to do, listening to some zen music or a good narrative. I would say a good region to get started is the horizon line separating the snow from the water. This line splits the puzzle into two areas, providing a horizontal guide. The darker blue regions in the corners of the puzzle and a dark rounded stone area in the top left, as well as the bright blue patches of snow on the mountain slope and their reflections in the water could be tackled next. For the trees, I found it easiest to start with the reflections in the water, as the ripples assist in determining the orientation of the pieces. The few rocks in the water and darker patches of land on the shore are distinctive as well. For the trees above water, tree trunks can serve as vertical guides. The gradients in the water, from yellow to blue, allow for gradual completion of that region, from light to dark. I have enjoyed this puzzle quite a bit.

Notes: "Larches turned gold in fall along the lakes The Enchantments in Alpine Lakes Wilderness, Washington while backpacking with my friend Zack Schnepf." [Adrian Klein site]