Wednesday morning, I have spent some time in the garden placing crushed egg shells around the plants in the permaculture towers that showed signs of snails partaking in the leaves. Egg shells also provide minerals to the soil as they break down, so I figured I would annoy the snails and feed the garden in one go.
While in the garden, I have seen a few Easter Egg radishes poking out of the ground ready for picking, so I took the opportunity to pluck those out. Seeing how some of the greens had juicy-looking leaves, I could not resist to harvest some for a quick salad. This made for the first official harvest that made an entire salad (besides dill, parsley, cilantro, and onions I have occasionally been picking).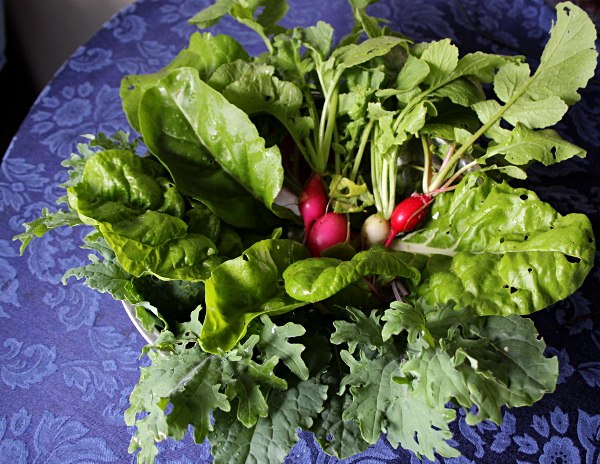 A fresh salad of kale, Swiss chard, radishes, with a little olive oil and vinegar made for a perfect summer dish. Sharing the bounty in the evening with my family, it felt very rewarding to have grown this delicious food ourselves. Our daily watering ritual gives me time to reflect on the green life enveloping the permaculture towers, and be grateful for having access to land.