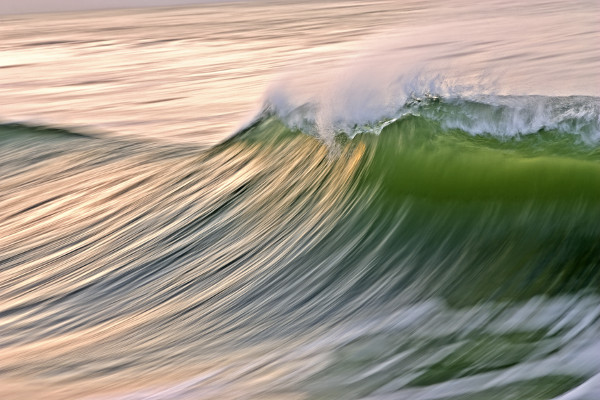 To be resilient in the face of changes, one must let go of the need to cling to familiar and give in to uncertainty of life. Just as with good sex or a good birth, feel the rhythm, follow it, listen to your senses, and ride that wave. Let go and you'll be more in control and feel more pleasure from the process than if you try to resist the flow. You cannot control life circumstances. You can control how you respond to changes and integrate them into your life.
Those of us who have experienced birth know that you cannot control what your body does to birth the baby. You prepare and plan as much as you can, and when the baby is ready, you let your body take over and guide you. For me, birth has been the ultimate surrender — I have embraced the loss of uncertainty and have focused on riding the waves that brought me to the shores of motherhood. The two days I birthed my two children are the days I've felt the most alive in my entire life.
Not surprisingly, the willow tree, with its ability to bend with the wind, without breaking, often serves as an empowering image for weathering the storm of uncertainty and changes. Women often recite the following poem at Blessingways to share with the mama the need for flexibility during labour:
I am a willow tree,
Strong, yet fluid
graceful.
I can bend with the wind,
but my roots are tough,
indestructible.
Opening to birth my child
is flowing with the wind:
from a soft and gentle breeze
to a stormy gale
back to a soft and gentle breeze.
My body is strong, but flexible.
It is my friend, it knows how to open.
I am a friend to my body
eating well, walking, and loving myself.
I shall birth safely, freely, openly…
among my loved and trusted ones.
I am the willow, flexible
beautiful resilient
endowed with the power of surrender
to the wind rustling through my leaves,
my branches.
My roots reach deep into Mother Earth
Anchored in Her strength
I bring forth life
In joy!
(I do not know the author)
In Terry Pratchett's Witches Abroad, one of the senior witches, Granny Weatherwax speaks about the importance of knowing exactly who and where you are. "She [granny] was also, by the standards of other people, lost. She would not see it like that. She knew where she was, it was just that everywhere else didn't." She enters the realm of Death and, surrounded by a multitude of mirror reflections of her, faces a question — which one is the real Granny Weatherwax. She pauses to ask "Is that a trick question?" and, looking down at herself, confidently states, "This one."
If you know who you are with solid certainty, once you find your centre within the new reality, you can then build more supports to get established anew. You can find your comfort zone and enjoy the calm, keeping in mind the need for flexibility, come the new gale. A good balance of comfort and certainty on one hand, and flexibility and uncertainty on the other, is essential for an exciting journey that does not result in the mountain of stress crushing you, or in the loss of interest in life that has become a rigid routine.
As a personal example, my family is currently going through several major changes at once: we are moving (which, with two small children, is not for faint-hearted), switching jobs and office locations, nurturing a teething baby and a child with a cold, welcoming guests from out of town, and planning and planting a garden.
To weather this with minimal stress while remaining a strong family unit, we have focused on what we can control:
leaving plenty of time for packing and moving fragile items and books before the main furniture move;
setting a separate day to move the garden soil, permaculture towers, and shrubs that need replanting;
making sure to spend lots of time with the children to alleviate their stress and involve them in the move;
planning a menu, cooking and freezing meals in advance to ensure we do not fall back on poor food choices due to lack of cooking time or supplies.
For the unknown factors, we leave ourselves open to improvisation, pull in resources as needed, and make sure to breathe deeply when things don't go as expected, to find solutions from a calm state of mind.
Take care of what you can control, bend like a willow with the wind, and embrace the uncertainty.