Stress is bombarding us every day in the form of external demands and internal pressures, and unless we learn to control the way we respond to stress, it can seriously affect our mental, emotional, and physical health. There are many aspects of family life that compete for our attention, and introduction of a new dependent human being into the mix tends to throw us off balance. Productive Zen Mama approach is to help women enjoy their time with the new baby, while efficiently running a household, having time to rest, exploring personal projects, and feeling fulfilled.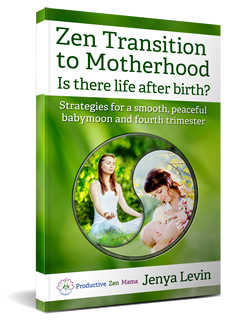 My book Zen Transition to Motherhood is now available on Amazon. It looks in detail into the early weeks after the baby's birth, with resources to let the new mama rest and recover after the birth, and tips on how to set up a meal train, address mama's and baby's health challenges, good supplies to have on hand, and ways to relax and enjoy this time. The second part of the book goes into practical matters of harnessing the new routine, getting chores under control, mastering errands with the baby, and handling commitments. The book also includes many ideas for entertainment and rest.
You might pick up this book while you are pregnant or shortly after you give birth. At its core there are gentle parenting principles and a common sense approach to reality.
Read it on Kindle: http://www.amazon.com/kindle/dp/B00WFGA2FU/