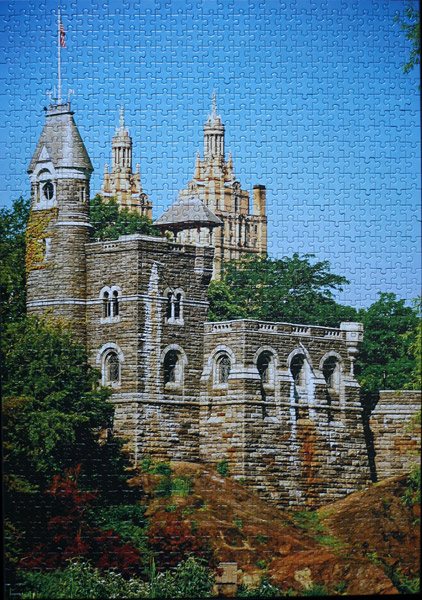 Size: 1000 pieces
Dimensions: 68cm x 48.1cm
Producer:  Mega Brands, Click series
Notes: Belvedere Castle is a building in Central Park in New York, New York, that contains exhibit rooms and an observation deck.
Built as a Victorian folly in 1869, the castle caps Vista Rock, the park's second-highest natural elevation Constructed of Manhattan schist quarried in the park and dressed with gray granite, it tops the natural-looking woodlands of The Ramble, as seen from the formal Bethesda Terrace. As the plantings matured, the castle has disappeared from its original intended viewpoint. Its turret is the highest point in the park.
Belvedere means 'beautiful view' or 'panoramic view' in Italian and the castle provides impressive views across Central Park and New York City. It was designed as an additional feature of the Central Park "Greensward" plan by the architects Calvert Vaux and Jacob Wrey Mould after they, along with Frederick Law Olmsted, were reappointed to oversee the park's construction in 1865.
The site, which overlooks the Lower Reservoir, already held a fire tower under the control of the Croton Aqueduct board. In 1867, the board transferred the site to the Park, and the fire tower was demolished. [Wiki]