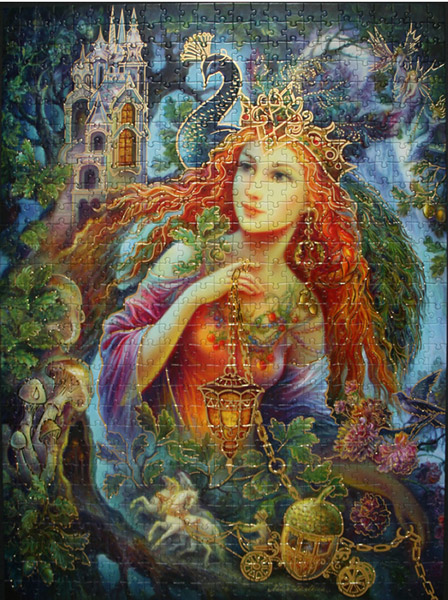 Size: 750 pieces
Dimensions: 51cm x 68cm
Producer: Lafayette Puzzle Factory, Goldenline Fairies series, #3921
Artist: Nadia Strelkina
Painting: photo
Box: photo
Notes:  A fairy (also faery, faerie, fay, fae; euphemistically wee folk, good folk, people of peace, fair folk, etc.) is a type of mythical being or legendary creature, a form of spirit, often described as metaphysical, supernatural or preternatural.
Fairies resemble various beings of other mythologies, though even folklore that uses the term fairy offers many definitions. Sometimes the term describes any magical creature, including goblins or gnomes: at other times, the term only describes a specific type of more ethereal creature.
Much of the folklore about fairies revolves around protection from their malice, by such means as cold iron (iron is like poison to fairies, and they will not go near it) or charms of rowan and herbs, or avoiding offense by shunning locations known to be theirs. In particular, folklore describes how to prevent the fairies from stealing babies and substituting changelings, and abducting older people as well. Many folktales are told of fairies, and they appear as characters in stories from medieval tales of chivalry, to Victorian fairy tales, and up to the present day in modern literature. [Wiki]