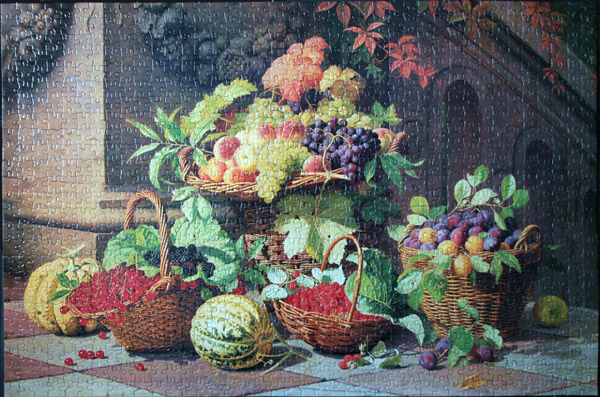 Size: 1000 pieces
Producer: Jumbo
Artist: W. Hammer (1821-1889)
Painting: photo
Notes: In broad terms, a fruit is a structure of a plant that contains its seeds.
The term has different meanings dependent on context. In non-technical usage, such as food preparation, fruit normally means the fleshy seed-associated structures of certain plants that are sweet and edible in the raw state, such as apples, oranges, grapes, strawberries, juniper berries and bananas. Seed-associated structures that do not fit these informal criteria are usually called by other names, such as vegetables, pods, nut, ears and cones.
Fruits are the means by which many plants disseminate seeds. Most plants bearing edible fruits, in particular, coevolved with animals in a symbiotic relationship as a means for seed dispersal and nutrition, respectively; in fact, many animals (including humans to some extent) have become dependent on fruits as a source of food. Fruits account for a substantial fraction of world's agricultural output, and some (such as the apple and the pomegranate) have acquired extensive cultural and symbolic meanings. [Wiki]