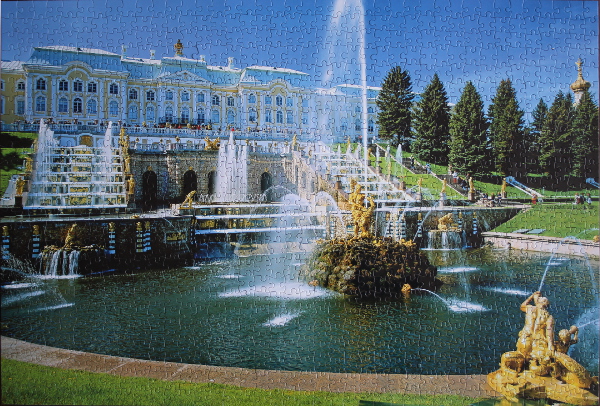 Size: 1000 pieces
Dimensions: 73 cm x 49 cm
Manufacturer: TCG, #40687-3
Photographer: Günter Gräfenhain
Puzzle: A wonderful depiction of the Grand Cascade fountains in the Petrodvorets (Peterhof) Palace in Russia. I've visited this beautiful place in the 1990s, and it was a pleasure to assemble this puzzle almost 20 years later.
Good places to start are the border of the pool and the grassy areas, the sky, the pool water, the palace, the evergreen trees, and the statue in the bottom right corner. After that, stairs, fountains, rock walls and arches between the stairs, striped embellishments, and statues can be assembled.
Notes: The Peterhof Palace (Russian: Петерго́ф, Dutch for Peter's Court) is a series of palaces and gardens located in Petergof, Saint Petersburg, Russia, laid out on the orders of Peter the Great. These palaces and gardens are sometimes referred as the "Russian Versailles".
The fountains of the Grand Cascade are located below the grotto and on either side of it. There are 64 fountains. Their waters flow into a semicircular pool, the terminus of the fountain-lined Sea Channel. In the 1730s, the large Samson Fountain was placed in this pool. It depicts the moment when Samson tears open the jaws of a lion, representing Russia's victory over Sweden in the Great Northern War, and is doubly symbolic. The lion is an element of the Swedish coat of arms, and one of the great victories of the war was won on St Samson's Day. From the lion's mouth shoots a 20-metre-high vertical jet of water, the highest in all of Peterhof. This masterpiece by Mikhail Kozlovsky was looted by the invading Germans during the Second World War; see History below. A replica of the statue was installed in 1947.
Perhaps the greatest technological achievement of Peterhof is that all of the fountains operate without the use of pumps. Water is supplied from natural springs and collects in reservoirs in the Upper Gardens. The elevation difference creates the pressure that drives most of the fountains of the Lower Gardens, including the Grand Cascade. The Samson Fountain is supplied by a special aqueduct, over four km in length, drawing water and pressure from a high-elevation source.