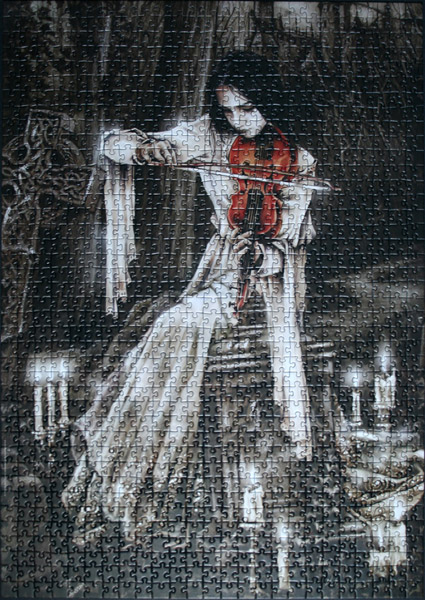 Size: 1000 pieces
Dimensions: 48.26cm x 68.58cm
Producer: Heye, #29197
Artist: Victoria Francés
Notes: Victoria Francés was born on October 25th, 1982. From her early childhood she was fascinated by the beauty of the forest in Galicia, where she spent much of her infancy. After traveling to cities like London and Paris she was hypnotized by the atmosphere there, the same that brought to life legendary masterpieces of Gothic literature. Her illustrations and sketches recall the dreamlike world of Gothic Romanticism.
Influenced by pre-Raphaelite paintings, she chooses subjects that take us to a symbolic, magical and ancient world. All the sufferings of the outcast of this world is shown in dark castles and mansions with flickering lights, with the distinct influence of Goethe, Edgar Allan Poe, Baudelaire and even Bram Stoker. [Fan site, since the official site is currently in Spanish only]
[Victoria's] first illustrated book, Favole, a remembrance of Verona, Venice and Genoa, was first released on 23 April 2003. [Wiki]