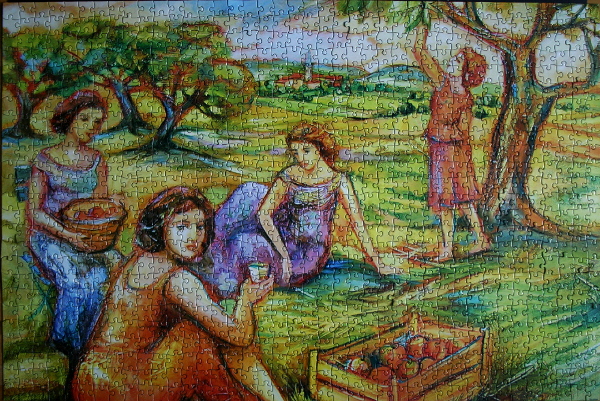 Size:  1000 pieces
Dimensions: 73 cm x 48.57 cm
Artist: Betty Wittwe – Born in Metz, France in 1959, Wittwe graduated from the School of Beaux Arts and majored in Plastic Arts in 1979. Her strong inclination for performing art has influenced her first canvases featuring musical and dance performances, circus …
Although Wittwe is still adept at painting musicians scenes and ballerinas, she also developed great skills for subjects such as landscapes, garden views, interior scenes,… Inspired by the peaceful atmosphere of her farmhouse in Provence, she uses spontaneous brushwork. Light is provided by the choice of her bright and vivid colors.
She masters her technique and focuses her effects on expressing emotions. Her vivid colors and strong brush work give life and vitality to her paintings. She gives us the possibility to dream and to escape. Recipient of best of show place awards in Paris French Fine Art Exhibition, her reputation crossed the Atlantic in 1997 when she started to exhibit at a major Madison Avenue gallery in New York and Beverly Hills. [Pejman Gallery site]
Producer: Sure-Lox, The Canadian Group, Celebration of Women series,  2009, #40888PAL

Notes: This series celebrates all women with bright colorful images of days gone by, sweet memories and priceless friendships. Our featured artists capture great moments of women – mothers, sisters, daughters and friends. It celebrates the qualities they possess – their graces, inner strength, love, forgiveness, endurance and constant perseverance. [Puzzle box]

Puzzle: The bright colours of women's dresses and the dark of the tree trunks are logical regions to begin assembly. After that, the sky, the building near horizon, and the apple box are distinct areas. The rest of the puzzle consists of a blend of green, blue, and yellow colours, presenting a bit more of a challenge.